We have our next physical on Sunday, July 3, 2022, 5:00 pm at Quezon Memorial Circle Covered Court.
Please refer to these House Rules and COVID-19 Safety Reminders for our on-site Worship Service.
Church House Rules 2022 & COVID-19 Safety Reminders
1) Church House Rules:
a) Gates open to the public one (1) hour before the Service starts. Only authorized workers are allowed to enter the venue early for the ingress.
b) Park at designated areas only. No reservation of parking.
c) No bringing of bulky items or heavy luggage inside the church venue. There are no baggage counters available.
d) No leaving of items in the care of our church workers (example at the Info booth, Lobby, Registration area, Bethesdan tent, etc.).
e) Bringing of food, colored drinks, alcoholic beverages is not allowed inside the church venue.
f) Eating is prohibited while service is on-going. But brethren with regular medications are exempted.
g) No Smoking inside the church premise.
h) No littering. Dispose of your trash properly. Always keep our Church surrounding clean.
i) No pets allowed.
j) SEATS ARE ON A FIRST COME, FIRST SERVED BASIS except for designated areas for specific workers.
k) Strictly no seat reservation especially IF THE PERSON IS NOT YET INSIDE THE VENUE. Service Operations team workers are authorized to order the removal of bags and other items being used for seat reservations.
l) Follow the designated seating areas as directed by our Assigned Faces.
m) Avoid disruptive and distractive noises.
n) No loitering. Avoid obstructing hallways and emergency exits.
o) Refrain from going to the restrooms while service is on-going especially during the Word of GOD. Everyone is expected to be seated comfortably before the Opening Prayer.
p) Keep all mobile phones and electronic/digital devices in silent mode during the service.
q) Facebook live and any unauthorized video recording (especially with the use of professional cameras, mobile phones, and gadgets) of the service program in part or in full especially the Word of GOD are not allowed without proper authorization fro Church Administration. There are Servants Force workers assigned to do this role. (Yupper/Nugen Core)
r) Avoid napping, unnecessary chatting, and use of mobile phones during service.
s) Wearing of cap and dark sunglasses while service is on-going is not allowed.
t) Pay close attention to the announcements and fervently pray for our guests during the Altar Call and Prayer of Acceptance.
u) Adhere properly to the Entrance and Exit procedures. Faces and Gideon will be your guide as you enter and leave the premises.
v) Strictly follow the COVID-19 Safety Protocols.
2) COVID-19 Safety Reminders:
a) Face Mask must be worn at all times to reduce the risk of exposure to any viruses. No face mask, no entry.
b) Observe proper wearing of face mask inside the church premises. Bring extra face masks.
c) Children below 10 years old will not be allowed to enter the church premises.
d) Vaccination status for workers must be complete (1st, 2nd and/or Booster). Members, Guests & Seniors vaccinated or unvaccinated will be allowed.
(1) Health Declaration is REQUIRED before entering the church premises. Here are the ways and means to submit a health declaration:
OPTION 1:
OPTION 2:
Fill out the Health Declaration form at the registration area on the day itself.
No Health Declaration, No Entry.
e) Persons who are immunocompromised or have medical conditions such as hypertension, asthma, heart, and lung conditions are discouraged to attend the physical Worship Service.
f) Always observe social distancing; avoid hugging, "beso-beso" and handshaking.
g) Practice good hand hygiene. Wash hands with soap and water or sanitize hands as needed. Avoid touching your eyes, nose, and mouth whenever possible.
h) Please also bring the following: alcohol 70%, hand sanitizer, tissue, or paper towel, mosquito repellent, fan (pamaypay), umbrella, and bottled water.
i) Cover coughs and sneezes.
j) PLEASE Stay at home if:
-You feel sick or having flu-like symptoms, have loss of smell or taste, and shortness of breath currently or within the last 14 days.
-You have had a high-risk exposure within the last 14 days.
k) Anyone who shows any kind of symptoms related to COVID-19 will not be allowed to enter the church premises and will be asked to go home (including the companion).
These preventive measures are being regulated and implemented by the Church Administration. Church Leaders are tasked to strictly implement its compliance to provide a safe environment for all workers, brethren, and guests. Everyone is expected to fully understand and be aware of the increased risks of contracting the virus anywhere. The Church would not be held responsible should there be an any incident (known or unknown) regarding this matter.
In case of contract of the disease, the Church respectfully asks for that worker, brethren, or guest to immediately notify their condition to the persons who they have come into close contact with and to follow DOH's isolation guidelines.
Guidelines in Filling Out the Health Declaration Form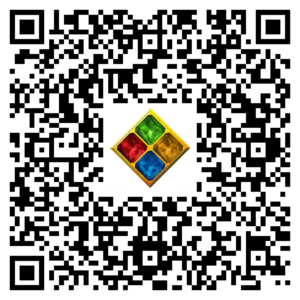 *Link/QR Code can only be accessed from Saturday morning and will be closed once the worship service starts.
2. Fill out the form and complete all details needed.
3. Click the "Submit" button.
4. Take a screenshot of the CONFIRMATION MESSAGE stating you are cleared to enter the church venue.
5. Show the screenshot of the confirmation message to Bethesdan/Faces upon entry.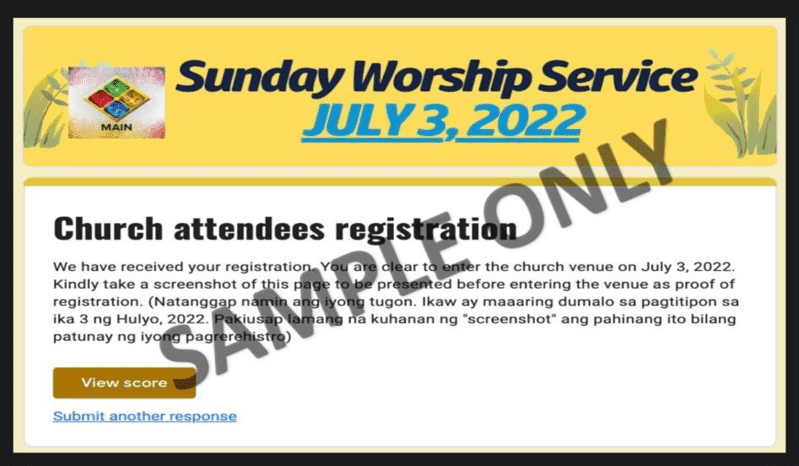 *sample screenshot of confirmation message
MANUAL
1. Go to the registration area and get a Health Declaration Form.
2. Fill out the form and complete all details needed.
3. Give the form to Gideon/Faces upon entry.
REMINDERS:
*No Health Declaration Form, No Entry.
*Form must be filled out on a weekly basis.
*One Form, One Person
*All persons who will enter the church venue including workers must submit a health declaration form.